Who we are
EPRD Office for Economic Policy and Regional Development Ltd. is a consulting company. For over 20 years, we have been using the industry knowledge of over 7,500 experts who work with us on five continents, providing consulting and training services to the public sector, international corporations, SMEs and non-governmental organizations.
EPRD was built solely on the basis of Polish capital. We operate not only for the development of entrepreneurship in Poland, but also beyond its borders. Our team of high-class specialists is complemented by experienced experts from abroad, as well as renowned professionals – scientists and practitioners. Cooperation with experts from around the world allows us to transfer knowledge and best practices in-between the implemented projects.
Our team provides professional support in every phase of the project implementation. We create solutions tailored to your needs that will help in the development of your company.
The headquarters of EPRD is located in Kielce, but we also have offices in Belgrade and Sarajevo. We have permanent representatives in Albania and Comoros, where we carry out projects supporting the development of communities and regional administration.

History of EPRD
We have been providing consulting services for Clients in Poland and abroad since 1995. We have successfully completed hundreds of consulting and training projects on five continents.
In the initial period of activity, we implemented mainly projects supporting sectoral and regional restructuring, financed from the European Union, USAID, Know How Fund. Our teams of specialists also worked on the implementation of restructuring programmes, financed from the funds of the World Bank and the European Bank for Reconstruction and Development, as well as in the development of application documentation for infrastructure projects co-financed under the European Union pre-accession funds.
Since Poland's accession to the European Union, we have been supporting public and private sector entities in obtaining financing from EU structural funds and participating in the implementation of Community Assistance Programmes for new candidate and developing countries. Utilising reliable knowledge and many years of experience, we focus on comprehensive customer service, at the same time expanding the scope of services provided.
What makes us exceptional
For over 20 years, we have been delivering the highest quality services that increase the efficiency of processes carried out by our Clients in an effective, timely and reliable manner.
Diversity and interdisciplinarity
We work for and with all sectors of the economy, public administration, universities and non-governmental organizations.
We are present in all industries that have a significant impact on the Polish and global economy and on the public sector. We especially like interdisciplinary projects linking the world of science, business and administration.
International work environment
We provide global consulting services on five continents. We have foreign offices in Europe and Africa. We work with more than 7,500 experts, mainly from the European Union countries, and the project teams often include local experts. We use the latest technological achievements to plan, implement and monitor our tasks in the most distant corners of the world.
Work in motivated and committed teams
We work in teams, which are usually made up of our own employees and external experts. We believe that only a combination of talents enables us to meet the expectations of our Clients from around the world. We are motivated. We support and inspire others to constantly maintain a high level of services.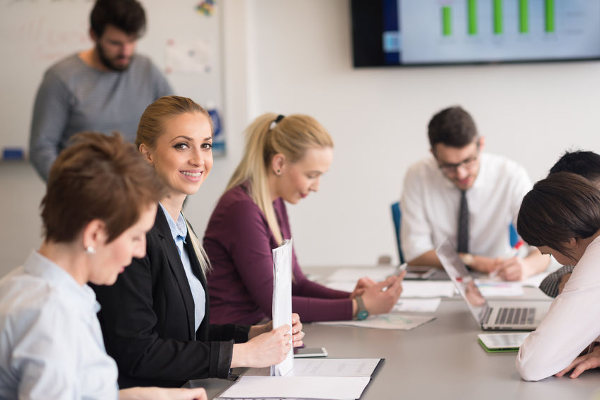 ISO 9001:2015-10- Quality Management System Certificate
EPRD's Department of Business and Human Resources Development was granted the certificate in May this year, the scope of this certification includes training and advisory services.
Obtaining the certificate was possible due to commitment of our employees, as well as effective management of processes and risks. We believe that the implemented procedures will increase the level of our services and thanks to that, the satisfaction of our Customers.